Entry posted by Emmy ·
439 views
Peek-a-Boo everybody: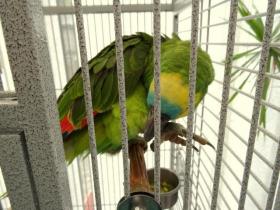 That's my latest game with 'mum'. but for the past 5 days I've been  VERY worried - I doubt you will believe me when I tell you why

There have been two more additions to the family
  and their names are Piper and Darcy and they are 7years old, but the worrying thing is they are PARROTS!! and mum had said I was special and there would be no more!.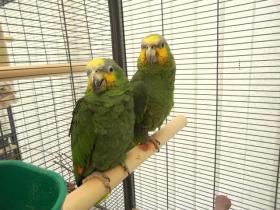 O K they are not the same as me they are orange winged Amazon Parrots and are 7 years old- They told me they are married and hope to have some babies soon. now that is another worry - I definitely will not be roped into helping with any chicks that may appear. NO WAY!!
Tiko and Tika have been moved.  I can hear Tika but I can't see her anymore they  are in a different room now .The cockatiels have been moved too but they are still beside me in the conservatory. Percy and Darcy have been given the WHOLE of the double cage --  I thought I would eventually be getting that!
I was a bit happier yesterday when things started to get moved about again, My pals, (mum's grandson and his dad) did all the moving of the cages and when it was finished Piper and Darcy were nowhere to be seen. 
I soon came back to earth with a bang! She hadn't got rid of them they were just in another area outside.
So now I need to keep on my best behaviour and try to please 'Mum'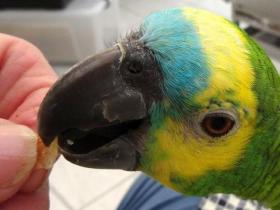 I started that this morning by going to sit beside  her on the chair in the conservatory and let her scratch my head. She was so pleased she even took a video of me.
(you can have a peek at it but don't let her know I've copied this:https://youtu.be/ZVQQU1RBuL4    
I think she really likes me but she wouldn't let me get some of her crisps. She actually caught me trying  to get into the packet.
I'll be back soon
Bye for now.