This year I have decided to conduct a small study in to the growth weights of chicks from the first stages of the egg to the point where a bird is considered to be a fully grown fledgling.
Just to test the water a little, I recently selected a pair of CFW's and started the process from the point where the chicks had hatched.
To allow me to achieve the result I required I purchased two sets of scales, one that would permit me to weigh the chicks from the early stages of hatching (0.1gram upwards) and another that would start from 1grm upwards to 50grms, this scale was big enough to place a show type cage on so that I could weigh the birds once they had fledged. Both scales also have the ability to be set to zero once an object was placed on them.
The sheet below shows the results I have collated so far, I was astonished to find how quickly each bird gained weight and developed. I also noted several points of interest, such as the time the bird was weighed and whether or not the crop was full or empty.
My next step will be to carry out this study from the first day that the eggs have been laid, but I will need to make sure that I select the correct pair as I do not want the birds to leave the eggs mid way through incubation.
Is anyone aware of this type of study being conducted with Zebras or other birds?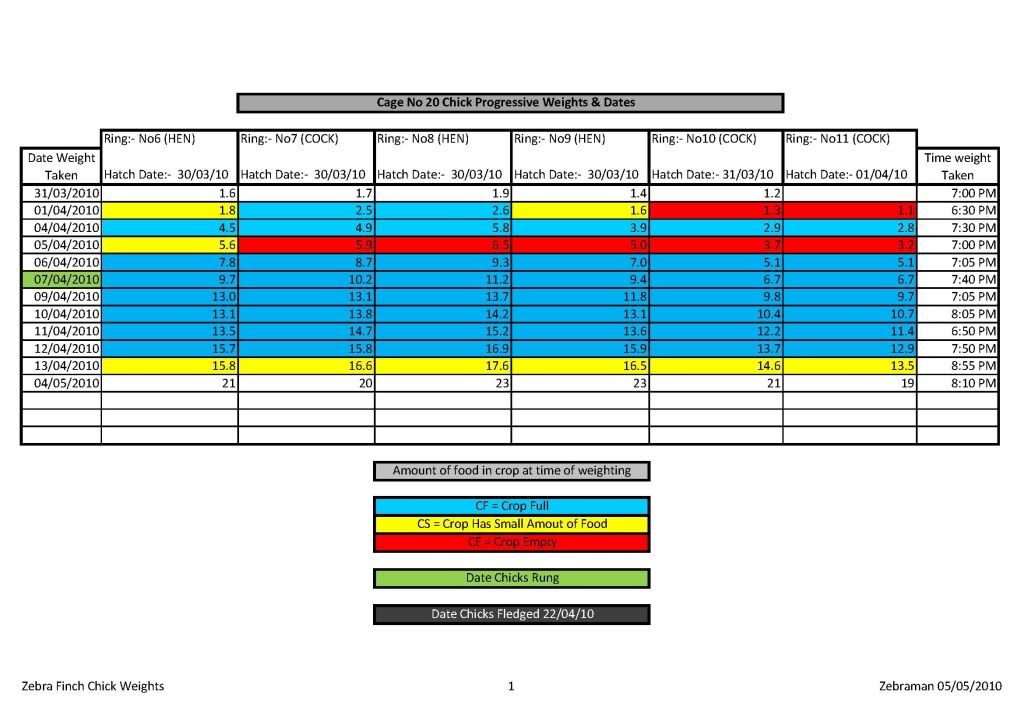 I have also made the file available for download below:-
Chick Weights 2010 Reduced.pdf
Source: Weight Study